The passion for boating, adventure, and Carolina Skiff runs deep for Captain Tami Gray. Learning how to fish at a young age was just the beginning. She later became interested in the activity professionally as a young adult in the mountains of Virginia and later North Carolina, where she owns a fleet of Carolina Skiffs for her chartering business, Family Water Adventures.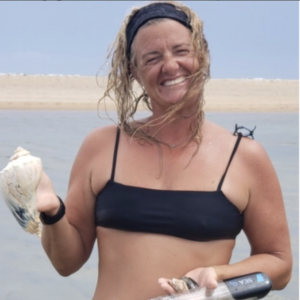 How did you become interested in boating?
I used to teach fly-fishing when I was younger before I went to college in the mountains in Virginia, and I loved it. Then in the early 90s, I visited the Carolinas and tried offshore fishing and was so hooked that I immediately decided to sell everything I had and move out to Hatteras Island, NC. So I did, and I never gave it a thought about being a woman or having had to get into the male-dominated world of fishing. I just always knew that I fished, so I didn't think anything about it. I started fishing offshore, and I did that for 15 or 16 years before I did Wicked Tuna: Outer Banks in 2015, where I was the first female captain on the show. After I had my daughter in 2002, I decided to turn everything into inshore to be close to home. That's when I started running my Carolina Skiffs.
Tell us about your Carolina Skiffs.
I got my first Carolina Skiff in 2002. Now I have six in my fleet. The one I currently am running is a 25, 90 extra wide DLX. I built that one from scratch in a way. I just bought the hull and the bow cap. I built the console and the casting tower, and I can steer from up top, like on a steering platform. I'm a mom. I'm on an income. I didn't want to go into debt, so I bought everything as I went along and made it my own. That boat is named Miss Sophia after my daughter. I also just bought another 24 a couple of weeks ago that I'm in the process of getting ready for the season.
What are some of your favorite things about your Carolina Skiffs?
The spaciousness. When I go out on my charters, there are eight of us on the boat, and we have a lot of room. There's a lot of room to cast and space for supplies for our adventures, like snorkeling gear, Zayaks, and paddleboards. I can fit all of it, and everyone is still comfortable. The boats can also go anywhere. I love the shallowness of the hulls and the ability to maneuver in really tight corners and shallow water. Right now, we're having a huge issue with shoaling here on the outer banks. We have about 60 charter boats that are high to the dock that can't get out of our inlets. But with my Carolina Skiff, I can just whizz right across that. I only need seven inches of water to go somewhere.
Tell us about how your boats are primarily used. Do you use it for business, recreation, or both?
Both, business and pleasure. On Saturdays or Sundays after church, I'll bring the kids out, and we'll bring some chairs, a cooler, and the dog, and we just have a relaxing day. That's what we do for fun. I tell my charters, this is what I do with my kids. I love it. I think it reflects in my work that I love what I do.
You just bought a new Carolina Skiff recently, are you still in the market for a new one?
I would like to have another 25, 90 extra wide. I think that they're perfect. I'll probably try to get all my older boats replaced, eventually.
What is your ideal day out on the water?
For everybody to be happy. To travel to and from our destination safely and for everyone to have all of their expectations met. Like snorkeling, seeing a lot of fish, finding a lot of shells, paddle boarding, and perfect weather. You know, just a really good day where you get to do everything that you want.
Do you have any stories about time spent on your boat that you'd like to share?
We ran 703 trips last year on our boats, which equals about 50 trips a week. We do two a day from 8 am to noon and then from 1 pm to 5 pm. So there are all kinds of stories! We've had whales come up and breach right beside the boat. We once followed a manatee around in probably 2-3 feet of water for maybe 45 minutes, and we were able to feed it out of the bottle. We threw some ice cubes out, and then he came to the boat. We poured some water into his mouth, and he just chilled with us for a few minutes.
Ultimately, my favorite moments are just being out on the water with great people who are doing this for the first time and never knew that all this stuff was even out here. That's the kind of stuff that I look forward to.
Anything else you'd like to share?
I'm in a large fishing and boating community, where there are a lot of options for many kinds of boats. But I am a Carolina Skiff girl, it's been my boat since I first stepped foot in one. It's just the boat to have here. Some people bought other boats that kind of regret not getting the Carolina. 
At Carolina Skiff, building one of the best quality boats for a great price has always been our goal. Whether you're looking for a recreational boat, fishing boat, runabout or commercial/work boat, Carolina Skiff delivers the most in value, quality, and style. Find a Carolina Skiff dealer near you today or visit https://www.carolinaskiff.com/ to learn more.