Some people purchase a boat for the excitement of hardcore fishing, while others for the fun of spending time with family and friends. There are countless things to do on a boat and having the right accessories for the task at hand will make your days on the water even more exciting!
Safety Considerations
We'll put a plug in for the must have accessories first. These non-negotiables will make sure you're ready for any hiccup that may come your way.
A first aid kit will prepare you for bumps and bruises. If you have children on the water, this is especially important. The first aid kit should include bandages in a variety of sizes as well as an antiseptic ointment or spray that can keep scrapes and cuts clean until you are able to get full medical attention. Instant cold packs and pain-relieving tablets are also great choices to have in your first aid kit. If you find yourself on the water with friends often, motion sickness medication can be a good thing to have as well. Tweezers often come in handy on the water, to help with splinters or rope burn, and also for fishing hook incidents. Make sure to throw in some extra sunscreen too – you can never have too much, and nobody wants to head back to shore just to get more sunscreen.
Properly fitting life jackets and personal floatation devices should be checked every time you get on the boat. Extra lifejackets should also be stored to ensure that everyone onboard is safe. Additionally, flotation devices, also referred to as life savers, can be the easiest way to address overboard emergencies, so always keep one handy, in an easy to access location.
Federal regulations require that all boats have at least on fire extinguisher on board. A marine quality, portable extinguisher is the gold standard among most boaters, allowing you to quickly extinguish any flammable liquids or gasses and prevent a major emergency. Stock a B-I or B-II extinguisher to make sure all requirements are met and check it frequently to make sure everything is in good working order and not past any expiration dates.
Signal flares are another federally mandated requirement that must be kept on your boat. Again, check to make sure your flares are stocked and in good working order, most flares will only last three to four years unused and can quickly be rendered useless if they have water damage.
While not federally mandated, boat bumpers and a VHF radio are two safety devices that can keep you safe and protected on the water. When you are docking your boat, or coming close to another vessel, the bumpers will keep you from costly hull damage. A VHF radio is a two-way communication device that allows for boat-to-boat and boat-to-Coastguard communication, depending on the channels used.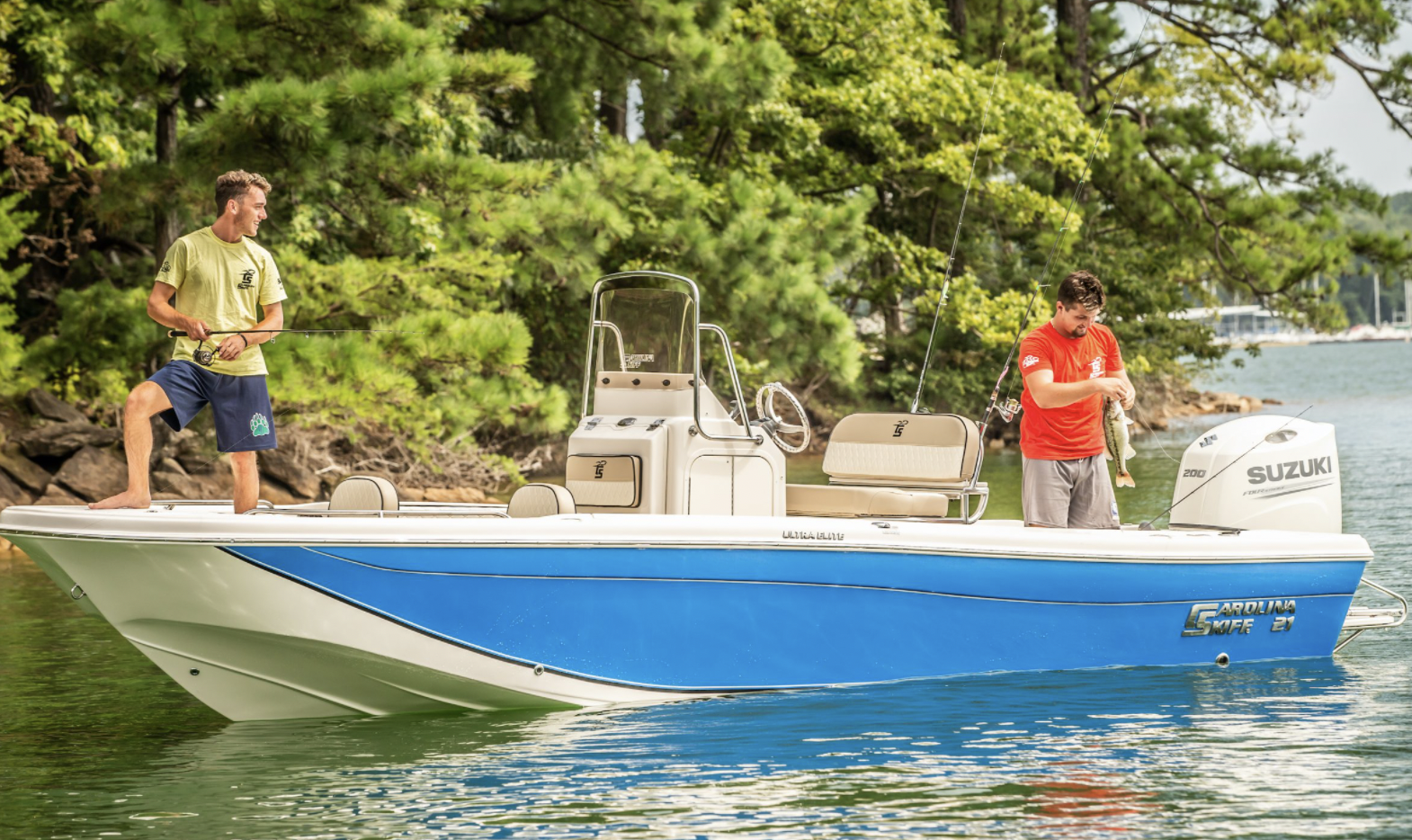 Bring on the Fun
Lots of boaters like to take a break and relax on the water for a time. A great float will allow you to float the day away and a rope will keep you from floating off. There are a wide variety of floats to enjoy, some built to look awesome in an Instagram picture and others that are ergonomically correct to keep your comfy.
Towable tubes are another way to have fun on the water – with a lot more action! Again, there is a lot of variety out there so research limits on weight and make sure that you have proper tow ropes.
Many sports enthusiasts love the thrill of wake boards or wake skates. There are also a variety of ski set ups, as well as knee boarding and wake surfing. It's easy to spend a lot of money here, but the fun is endless. Make sure that your boat provides the proper wake for each activity and that you have ropes with good handles on hand to make your days on the water fun and activity packed.
A great ladder or even the addition of a diving board help people get in and out of the water with ease, no matter what type of floating or fun is to be had. For lasting fun, make sure that everything you purchase is marine grade and works with your specific boat model.
Fishing
Having the right equipment on board for fishing is great, but if it all becomes a jumbled mess on the water you lose a lot of the fun. Rod holders can help you keep your lines organized, and your rods secured out of the way while people move around the boat. Rod holders can also be your saving grace if you want to keep your hands free – making fishing that much more enjoyable. Rod holders are easy to install and can be placed on new and used boats.
A fish finder can show you right where the fish are biting, working through sonar technology that scans down through the water. This device provides for better fishing and can be key when you are in a new location or fishing during weather changes. Fish finder technology has made dramatic improvements in recent years, with some models offering a picture so clear and precise that you can actually see a fish being hooked in real time.  Many fish finders also come equipped with GPS technology, which can be a wonderful safety feature to have as well.
The great thing about fishing is that it's extremely rewarding, and you get an amazing dinner! A good fish cooler will allow you to keep your catch ready to eat until you reach the shore. Stock your cooler with the right type of ice – salt water or fresh – depending on your finishing location.
Cook on the Boat
You can turn your fresh catch into an immediate dinner with a mounted boat grill. Boat grills come with gas, charcoal, and electric options to suit your cooking preference. Even if you aren't a fisherman, you can break up your day on the water without having to pull into the marina. Burgers are a great option, or you could wrap up packets with a protein and veggie variety for some healthy sustenance.
Crank up the Tunes
The right speakers will make your time on the water enjoyable for everyone. Whether you are listening to your favorite podcast or jamming to the oldies, your boat speaker setup is a personalized choice. There are many options available to fit a variety of boat styles and needs.
There are so many new technologies and items in today's market to help you have a blast on the water – and keep you safe. Analyzing the way, you use your boat will help you make the right decisions and keep all of your guests engaged until you head back to shore for the evening.
At Carolina Skiff, building one of the best quality boats for a great price has always been our goal. Whether you're looking for a pleasure boat, fishing boat, or runabout boat, Carolina Skiff delivers the most in value, quality, and style. Find a Carolina Skiff dealer near you today or visit https://carolinaskiff.com to learn more.