When it comes to showing off your brand new or new to you Skiff, having the perfect name for your new boat is the ultimate flex.
The ideal name should show everyone on the water a glimpse of your spirit, personality, and who you are as a boat owner. But before you start stenciling "Keepin' It REEL" on the side of your boat, we've got a few things for you to consider first.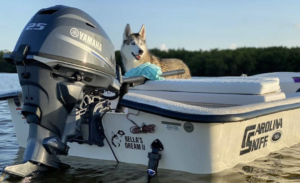 1: Do your research!
Try to be unique by ditching the cliché or well-known names. There are a few helpful sites on the web you can use to check the popularity of names, including the Boat Name Registry and the United States Coast Guard site. The Boat Name Registry requires a membership, while the USCG site is free. If you're going the free route, head to the USCG page and search by vessel names. There, you'll see all the boats with that name registered with the United States Coast Guard over the past several years.
2: Keep it simple.
Don't overthink it! Your boat's name should be witty enough to convey your essence and short enough to say over the VHF radio. Sea radio etiquette states that names are typically said three times over, so let's keep it classy and cross any embarrassing names off your top ten list while we're at it. Roger that?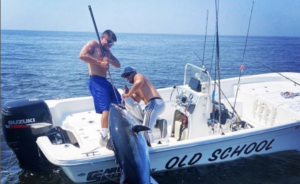 3: Pun it up.
The funnier its name, the more memorable it will be. Pull inspiration from life onshore, or make it topical! A restauranteur naming their boat "Fillet Show" or a retiree spending their days aboard the "SEAbatical" would be something to behold. Remember, puns are fun, and your boat name should be too!
4: Don't forget!
It's bad luck to rename a boat. If you've bought a used boat that already has a name, you might want to consider going through a renaming ceremony. Save yourself from Davy Jones' Locker by ridding any trace of the old name on your boat. Grab a bottle of champagne, some green leaves, and a bottle of wine to break. Have some friends aboard, recite a poem, make a toast to your newly named boat, and cruise on!
Carolina Skiff is committed to family fun, and building one of the best quality boats for a great price has always been our goal. Whether you're looking for a pleasure boat, fishing boat, or runabout boat, Carolina Skiff delivers the most in value, quality, and style. Find a Carolina Skiff dealer near you today, or visit https://carolinaskiff.com to learn more.